Projects
The Victoria Mutual/St. James FA Coaches' Development Programme and U-13 Football Competition
Coaches have a significant impact on the youngsters they train. The VM Foundation believes that coaching is more than instruction. Coaches mentor and help their student athletes to believe in their talent and ability to excel.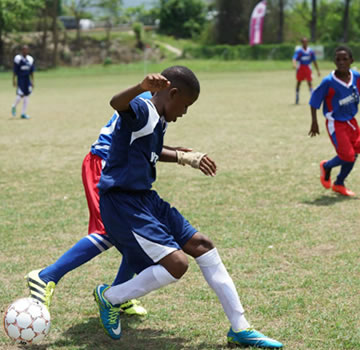 VM Foundation recognises this and has invested in the VM Foundation/St James Football Association Coaches' Development Programme and U-13 Football Competition to strengthen the ability of coaches to work with youngsters on nutrition, exercise and warmups, managing injuries and recognising health challenges before they become critical. A key component of the development programme is to help coaches understand the tenets of youth development including goal setting, fiscal prudence, and team building skills.
Young footballers in the parish of St James, through this competition, have an opportunity to sharpen their football skills in a safe environment. The competition has grown significantly over the past 10 years with over 30 schools participating in the tournament.
As empowerment is one of the core values of the VM Foundation, the competition's focus includes imparting life skills, such as developing good savings and financial habits.
After approximately eight weeks of fun rivalry, the winning team is awarded a trophy, a cash prize and training equipment. Sectional prizes are also awarded to the Top Coach and Top Goal Scorer. The VM Foundation believes in sustainability and the decision to include training equipment in the prize package will ensure that the youngsters' football dreams continue long after the tournament has ended.
The VM Foundation sees this competition as an important investment in our nation's future and the building block for a development programme for coaches to build their skills in mentoring and informing young people on the importance of nutrition, exercise, and self-esteem.
The coaches will be trained in mentoring the young athletes during the summer break and your help can strengthen the impact of the competition through your support of the "Boots for Boys" programme./