Projects
Community Development
"It takes a village." ~ African Proverb

Whether it's improving access to formal education, financial education, healthcare or promoting entrepreneurship, the VM Foundation is committed to working with communities to identify their strengths, needs and priorities; ultimately to develop tailored solutions that are responsive to their unique circumstances.
Since 1981, the VM Group has sponsored the National Leadership Prayer Breakfast (NLPB) and has worked closely with the NLPB Planning Committee to ensure its successful execution.
Since 2022, the VM Foundation has partnered with the Jamaica Library Service (JLS) in support of its flagship programme, the National Reading Competition, allowing both organisations to make a significant contribution to literacy across several communities.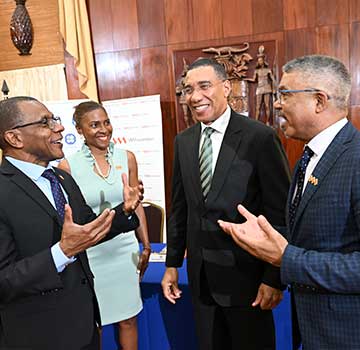 National Land Titling Initiative
In the continued effort to help more Jamaicans improve their quality of life, the VM Foundation has partnered with the National Land Agency (NLA) to accelerate land registration across Jamaica.

The Foundation has provided the NLA with grant funding in the sum of Thirty Million Dollars ($30,000,000.00) which will help some 400 Jamaicans to secure their official land titles.